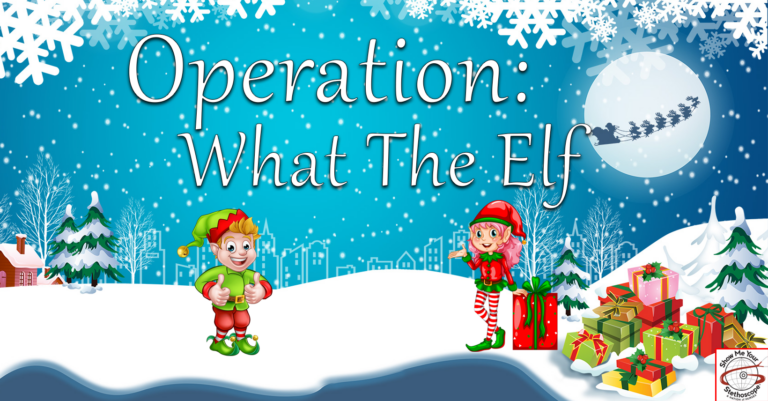 Every year Show Me Your Stethoscope members answer the call for families in need to ensure children can have a Christmas. In years past we have helped those with financial hardships due to house fires, life changing medical needs, loss of parents, unexpected adoptions, loss of jobs, and much more. SMYS has helped hundreds of children over the past several years and look forward to being able to spread some cheer again this year, with "Operation: What the Elf".
Apply to be a family:
If you are having a hard time financially and need help this holiday season, you can fill out an application here. Applications will be accepted from
October 1st, 2022
through
November 15th, 2022
. Some restrictions apply; please read the application carefully. If you feel that you have an extenuating circumstance that should be considered, please message our
public page
or send us an
email
.
Buying Presents:
Amazon wish lists are made for each family based on the information provided on the application. Presents can be purchased off those lists and they will be sent directly to the family. All items are $40 or less. Lists can be found in the
Featured Posts
section (formerly known as "Announcements") in the
Facebook group
.
Donate:
This year, we're offering something new. We now have a donation link specifically for the Christmas Family program. Funds donated through
this link
will go towards helping with clothing and other necessities for the selected families. Any amount is greatly appreciated and all donations are tax deductible!
Be a Sponsor:
One of the most important and challenging items to provide for this program are clothing and winter coats. Therefore, we are asking for sponsors who are willing to make larger donations so the admin team can use those funds and directly purchase these things for the families. If you wish to be a sponsor, please complete this
application
. Not only will you get the warm, fuzzy feeling of being Santa, but also the warm fuzzy feeling of your donation being tax deductible. If you own a business, advertising options are available.